VAT Late Payment
HMRC requires each company to meet tax and VAT obligations within a specified timeline. Therefore, VAT late payment can attract default surcharges or penalties. In addition to the standard VAT late payment penalty options, HMRC may decide to take legal action against a defaulter. If your business turnover exceeds £150,000 and you fail to pay your VAT within the specified deadline:
HMRC will add a fine for late VAT payment
They will also send you a "Surcharge Liability Notice"
If your company fails to meet HMRC VAT penalties and to clear VAT arrears, the agency may decide to instigate insolvency proceedings against your business. Here at the Insolvency Experts, we are able to advise you on all of the deadlines and regulations around VAT payments, ensuring that you and your business receive the best possible financial guidance and protection.
Call our friendly experts on 0300 303 8284
By quickly taking back control we can help you solve the problems that the business has.
Request a Consultation Free telephone advice
Request a Callback Just leave your number
Arrange an Office Visit We'll come to you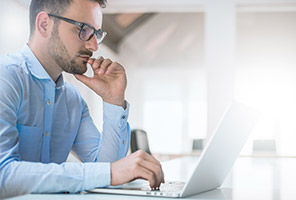 Company Liquidation Quote
How much will it cost to liquidate your business?
Try our calculator to find out…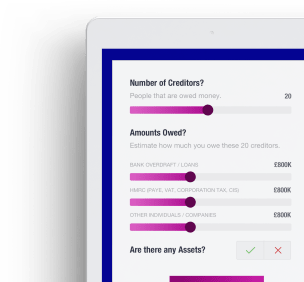 4 Key Questions on VAT late payment issues
How can you prevent a VAT late payment?
You can employ a variety of measures to avoid the implications of late VAT payments. In most cases, general financial management oversights and cash flow issues are the main causes of late VAT payment. Performing a thorough business review or analysis will assist you in identifying the major cash flow or other financial issues that may harm the ability of your business to meet its tax obligations.
If you wish to avoid fines for late VAT payment, you can consider securing a TTP (Time to Pay) arrangement with HMRC. Such a decision will allow you to repay your debt within a given period and in a series of affordable installments. Here at The Insolvency Experts, we can also help businesses to secure a CVA – which is a Company Voluntary Arrangement – with its relevant creditors.
In short, a CVA is a formal agreement between a firm and its creditors. In such an arrangement, directors continue to operate the business, but a certain amount is paid to creditors for a period of months. Therefore, in some circumstances, a CVA is a better financial arrangement than liquidation or administration for many companies. Contact us ASAP and we will be able to help you to explore how you can fix your VAT late payment issues.

What are the penalties and surcharges on late VAT payment?
HMRC will identify you as a defaulter if:
The full VAT payment due fails to reach HMRC account by the specified deadline
You fail to submit your VAT returns by the due date
HMRC VAT penalties apply in the form of:
£400 when you submit VAT returns in paper form. However, you can in some cases make a paper submission if HMRC has exempted you from making online submissions.
30% surcharge on an analysis when the HMRC sends you an assessment that is too low, but you fail to inform them within one month
100% surcharge on any tax over-claimed or under-stated if you send a return with a deliberate or careless error.
Surcharges: Once you default, you enter a one year "surcharge period." If you default again during the same period:
You might have to settle the additional amount on top of your VAT arrears
The surcharge period may also be extended for an additional 12 months
HMRC will send you a notice indicating the applicable surcharges and the implications of continuing to default. You may be exempted from paying a surcharge if you make a late VAT Return submission, but you have to make VAT repayment, have no tax arrears and have paid all the VAT in full by the deadline.
The surcharge is usually a percentage of outstanding VAT arrears on the due date for the default accounting period. If you continue to default within your surcharge period, the surcharge rate will continue to increase, so it is vital that you get these matters in order. They may sound complex, but a financial expert will be able to guide you through.

What are the available options for dealing with VAT late payment?
If you face the prospect of a VAT late payment, you can explore various options. Having worked with HMRC for many years, our team of financial experts have the necessary expertise and experience to offer the best possible chance of avoiding a fine for late VAT payment. We have helped many businesses in different parts of the UK to fix their insolvency issues for several years.
Once you contact us, we can provide you with comprehensive guidelines and work to secure an affordable VAT repayment arrangement with HMRC. Based on your VAT repayment history, the time needed to pay and any reason why you can't settle your VAT arrears, HMRC may allow a period of a few months to settle your VAT arrears. In such a situation, we advise our clients to consider three main options:
If your business is not likely to be viable going forward, you can consider a voluntary liquidation
If HMRC files a winding up petition, then administration may be a viable alternative solution
You can look to secure a CVA with your creditors. CVAs are a tested way of restructuring your business debts
If you disagree with a HMRC decision concerning your liability to surcharge or penalty, you can:
Have your case or complaint handled by an independent tax tribunal or;
Ask HMRC to re-assess your VAT arrears case
However, if you wish to ask HMRC to review your case, you have to write to them within one month of the date you received the "Surcharge Liability Notice."

How do I find the right help with my VAT late payment?
As soon as you receive the notice, get in touch with us at The Insolvency Experts for personable and professional advice to safeguard your company. If you have no idea on how you can deal with HMRC VAT penalties, you can contact our highly trained team of financial experts for expert guidance and assistance. We help many businesses find the ideal solution to a VAT late payment penalty, knowing that a fine for late VAT payment can bring a further obstacle to the smooth operation of your business. We're available by phone or email today.