Licenced Business Rescue Experts
Helping Directors in Debt
Same Day Advice
For free expert advice, send us a message and we'll be in touch
Company Liquidation Quote
Find out how much will it cost to liquidate your business?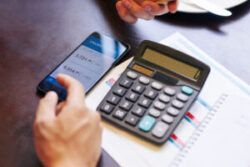 A bailiff deals with debts owed, such as from Sole Traders and self-employed individuals. Unlike a company director whose business would be liable for the debts incurred, if you are self-employed or a sole trader, you will be personally liable for your business debts.

It is important to be aware of what actions can be taken against you as a sole trader should you incur a certain amount of debt. Our simple guide explains what rights bailiffs have, and what rights you hold against them.

What is a bailiff?
A bailiff holds special jurisdictions that allow them to reclaim debts from companies and individuals through a distraint. They will be appointed by a Creditor, HMRC or by the Courts to collect the debt on their behalf.

A bailiff only has special rights, such as forced entry, if they are given approval through a Court Order.
What types of bailiffs are there?
Standard bailiffs and HMRC bailiffs possess the same powers. A bailiff with a Court Order or a High Court Enforcement Officer (HCEO) has the power to enter a premises on their first visit. In most cases, a bailiff will just want to speak to the indebted individual, discuss the debt owed and assess their repayment affordability.
Most bailiffs have the power to chase any debt owed. This could include:
CCJs

High Court Judgements

Court fines

If you are aware of a looming debt and are worried about bailiffs, it is imperative that you contact a professional immediately. The sooner you discuss your financial issues with a trusted expert, the less likely you are to face consequences from bailiffs.
What rights do bailiffs have against Sole Traders?
For sole traders and self-employed individuals, the process of having bailiffs attend your property tends to be very similar to that of a business-related call; however, the key differences refer to the fact that a sole trader is completely separate from a limited company.

This means that a bailiff has every right to visit your home premises and seize your personal assets. As a sole trader is not connected to a limited company the way a company director is, they aren't protected by the company and therefore, will owe money from their own funds or through the sale of their personal goods. 

What can a bailiff take from a sole trader?
There are different rules regarding what a bailiff can take from a sole trader, as they are not directors of a business.

From your home, bailiffs can take:
Any items and vehicles that belong to you

Any jointly-owned items

Cash

Cheques

Other monetary items you may have. 
All of your personal items, excluding the below list, may be at risk of being seized.

What can't a bailiff take from a sole trader?
Although the court allows bailiffs to take anything from a defaulter, they are required by law to leave you with certain household items. This is useful to know if you are a sole trader and bailiffs may soon come to your home property as opposed to a business premise.

These items include:
Care or medical equipment

Appliances for lighting or heating your home

Enough chairs and a dining table to accommodate occupants

Mobile phone or landline

Bedding and beds for each individual in the house

Basic household appliances like a washing machine, fridge, microwave and cooker

Fixtures in your home like fitted wardrobes and kitchen units

Goods acquired through hire purchase provided you have not settled the final payment

Items owned by other people

Assistance dogs and other pets

Books, tools and equipment needed for study or for a job


What are bailiffs prohibited from doing?
Bailiffs do not have a legal right to do certain things in regards to pursuing a debt.
These factors include:
Entering your premises between the hours of 9pm and 6am.

Climbing over walls and fences or through windows to gain entry to your property.

Forcing themselves past you at the door if you answer but refuse entry. 

Enter if the only person at the property is under the age of 16.
If you are visited by bailiffs and they are found to have broken any of these rules, they should be reported immediately. 
Can a bailiff force entry into my home?
If the doors to your home are locked and there is no natural way for a bailiff to enter, they are legally not allowed inside unless invited by the homeowner. You are well within your rights to refuse initial entry of a bailiff.
If there is another access point, such as a back door or an open outhouse, a bailiff may enter and begin to seize goods. You can prevent this by ensuring that all of your property is secured and that nobody in the household allows the bailiffs entry.

What rights do sole traders have against bailiffs?
As a sole trader, you hold many of the same rights that a Limited Company does when it comes to dealing with bailiffs. A bailiff must leave your property if you ask them to. You hold every right to refuse a bailiff initial access to your property also.

If you have to converse with a bailiff, such as when they visit for the second time with increased powers, you have the right to ensure that:
They are chasing a debt in which you actually owe;

You were provided with sufficient notice of the debt;

They have followed the correct protocol in terms of visitation;

The bailiff is registered on the

Ministry of Justice Bailiff Register

;

They have sufficient identification on them, such as an ID card and;

They can provide you with a breakdown of the debt and details of the claimant.
Who can support sole traders when dealing with bailiffs?
Our team of professionals at The Insolvency Experts have plenty of experience with dealing with financial debt and the threat of bailiffs. We can offer sole traders and self-employed individuals expert advice and support on this difficult matter.
If you are struggling with debt, are behind on payments or are experiencing any form of financial trouble, your best option is to get in touch with us today. The sooner you contact us, the more likely it is that we can help you avoid dealing with bailiffs and losing personal assets.