Licenced Business Rescue Experts
Helping Directors in Debt
Same Day Advice
For free expert advice, send us a message and we'll be in touch
Company Liquidation Quote
How much will it cost to liquidate your business?
Try our calculator to find out…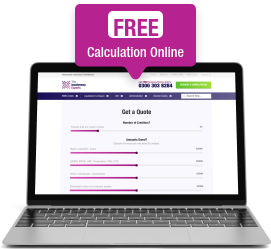 Table of Contents
What is Company Liquidation?
Liquidation is the process your company faces if you have cash flow problems on a regular basis and creditors are threatening to take enforcement action against the company.  A company liquidation process is appropriate when there is no prospect of selling the business or part of the business.
Here at The Insolvency Experts, we have helped a variety of clients around the UK to complete their company liquidation in the way which best protected their financial interests. If you are looking to liquidate a company and require expert advice on the best way to go about it, we would love to speak to you today. If you wish to open a company after liquidation then we can also help with ensuring you stick within all the guidelines out there.
What are my Company Liquidation options?
The process of business liquidation, whether voluntary liquidation or compulsory, is primarily geared around the realisation of company assets for creditors. Depending on the specific situation, your ideal company liquidation process may vary slightly.
Creditors' Voluntary Liquidation – This

company liquidation option

takes place when a company is insolvent and no longer has the ability to pay liabilities or to continue trading. Once the directors of the company have instructed an insolvency practitioner they commence a decision-making process to place the company into liquidation and appoint a liquidator.
Member's Voluntary Liquidation – This

liquidation process is applicable

when a company is still solvent and able to trade, yet the directors of the company wish to close the company down. This ensures that the process can be achieved professionally and in an orderly manner wherever possible. This could be due to the retirement of a director or shareholder, or when a family business has no one to succeed. Dependent on certain criteria, this process can potentially have significant tax advantages for shareholders.
Compulsory Liquidation – This

form of liquidating a company

involves the courts and happens when a winding-up petition has been issued by a creditor of an insolvent company, as a due debt has not been satisfied. The petition is subsequently heard at a winding-up hearing and a judge can make a Winding-Up Order to place the company into Compulsory Liquidation.
What are the benefits of a voluntary company liquidation?
By choosing to liquidate your company, you can benefit as a director. It prevents the creditors of the company from incurring more debt and ensures you, as a director, are less likely to be guilty of wrongful trading action being brought against you.
It is always useful to understand voluntary liquidation UK guidelines, as well as the benefits of voluntary liquidation in the UK. It may well be that for your company, choosing to liquidate a company in the ideal form is the best way to go. You should be aware that the process of company liquidation ensures that:
Employees can submit redundancy pay claims through government schemes.
Removes pressure from all creditors.
Prevents further legal action being taken against you.
Allows time for the realisation of company assets, ensuring that creditors receive the best possible return in terms of repayment of debt owed.
Potentially allows the opportunity for directors and/or shareholders to purchase assets at fair value, if they can be used in another business going forward.
Offers a complete, clean break for directors to move on from the company.
As liquidator's costs are paid once company assets are realised (providing assets are of sufficient value), there are no other fees directors are liable for.
Disadvantages of Company Liquidation
Liquidating your company may seem like the best option for you right now, but what about your future? Have you thought about any repercussions that liquidating a company can have on you?
No longer trade under the same or similar company name after liquidation.
Once liquidation starts any trading that is continued with the business may cause you to be prosecuted.
Business assets, reputation or even licenses will be instantly removed from company ownership.
Can't recover any tax loss you may have occured on your trading years.
How do I move forward with liquidating a company?
The best way to take steps towards the liquidation of a company is to enlist help from an expert Insolvency Practitioner who can explore your full range of financial options and recommend the best fit for you. If it turns out that it is preferable to liquidate a company in your situation, our team can offer expertise in this area.
For more information on company liquidation, from the costs involved to the UK liquidation timescales, or any other question related to finding the right company liquidation process for you, get in touch with our team today. You can call us on 0300 303 8284, or you can make use of our online contact form to submit an enquiry and request a callback.
How Long Does it Take to Liquidate My Company?
This question is totally dependable on how your company is being liquidated. If you have gone through the process of speaking to an insolvency company and they are happy with the sufficient amount of evidence you have given it should be around 3 weeks for full company liquidation.
On the other hand, if at least 90% of the company shareholders have supplied sufficient evidence and everything that is needed to liquidate the company, the company liquidation company will usually process this within 7 days.
Company Liquidation Quote
How much will it cost to liquidate your business?
Try our calculator to find out…