Personal Guarantees by Directors
If you have given one of your creditors a personal guarantee, it is important to know that you cannot just simply get out of them with no consequence. They carry a legal responsibility and the only way to remove such a personal guarantee is by:
Negotiating with the lender for them to remove it
Negotiating on payment terms
Paying off the personal guarantee, or
Going bankrupt
In order to ensure that you have the best possible guidance on protecting yourself legally and financially, it is vital to seek the support of an expert insolvency practitioner. Here at The Insolvency Experts, we offer a wealth of experience in such matters, with our team available for contact today by phone or email.
Call our friendly experts on 0300 303 8284
By quickly taking back control we can help you solve the problems that the business has.
Request a Consultation Free telephone advice
Request a Callback Just leave your number
Arrange an Office Visit We'll come to you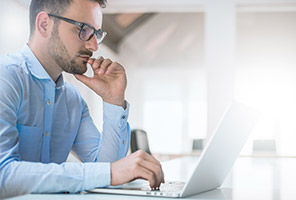 Company Liquidation Quote
How much will it cost to liquidate your business?
Try our calculator to find out…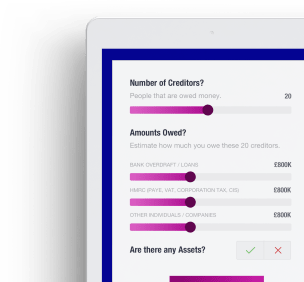 3 Key Questions on personal guarantees by directors
What are the main uses of a personal guarantee?
Many lenders (and perhaps some suppliers) may ask for a personal guarantee from you as a director of the company. This means that if the company defaults on the terms of the agreement they can chase you personally for the debt.
If you have signed a personal guarantee, you should seek advice from an Insolvency Practitioner, who may also seek the opinion of a solicitor regarding the terms of the contract to know exactly what your legal options are.
If the company defaults on a debt and the personal guarantee is called upon, then the steps the creditor may take depend on the amount of the debt.

What are the main penalties related to personal guarantees and bankruptcy?
Understandably, many of our clients are highly concerned by the possible penalties related to unpaid personal guarantees by directors. The most common courses of action in this area are:
Firstly, they will issue you with a statutory demand – allowing you 21 days to settle the debt, after this time they will then start bankruptcy proceedings against you (if the debt is over £5,000).
After this 21 day period, they can then apply for a County Court Judgement against you – more on our CCJs page.
If a personal guarantee is called upon, we suggest ensuring that the validity of the contract is questioned, and that it has been executed correctly.It's then important to discuss the debt with the creditor, to begin discussing terms of repayment – they want to ensure you pay the debt, therefore it's in their interest as well as yours to settle debt.

How do I find the right guidance on personal guarantees by directors?
Personal guarantees are extremely complex areas – seeking professional advice before signing them is highly recommended. Contact us here at The Insolvency Experts for more information about the duties of a director by calling us on 0300 303 8284 or emailing us on enquiries@theinsolvencyexperts.co.uk.